Ideal Property Inspections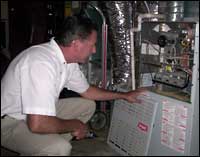 Our Full Inspections Include:
Roof, vents, flashings, and trim
Gutters and downspouts
Skylight, chimney and other roof penetrations
Decks, stoops, porches, walkways and railings
Eaves, soffit and fascia
Grading and drainage
Basement, foundation and crawlspace
Water penetration and foundation movement
Heating Systems
Cooling Systems
Main water shut off valves
Water heating system
Interior plumbing fixtures and faucets
Drainage sump pumps with accessible floats
Electrical panels, breakers and fuses
Grounding and bonding
GFCI's and AFCI's
Fireplace damper door and hearth
Insulation and ventilation
Garage doors, safety sensors and openers
And much more
Review NACHI's Standards of Practice at www.nachi.org/sop for complete details
More Information to Help You Have a Safe, Healthy Home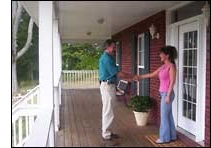 Mold Information: The presence of certain mold and mold spores in housing can result in mild to severe health effects in humans and pets and can deteriorate structural components of a dwelling resulting in structural damage. As humans vary greatly in their chemical make-up, so does individual's reaction to mold exposure. For some people, a small number of mold spores can cause ill effects while in others it may take more exposure.
Our inspectors are trained to observe and detect conditions which are likely to support or promote mold growth and to perform bulk or surface sampling, and air sampling for analysis at the laboratory.
Radon Information: You cannot see, smell, or taste radon. But it still may be a problem in your home. When you breathe air containing radon, you increase your risk of getting lung cancer. In fact, the Surgeon General of the United States has warned that radon is the second leading cause of lung cancer in the United States today. If you smoke and your home has high radon levels, your risk of lung cancer is especially high.
Radon is one of the nation's most important environmental threats – one that places people at risk in their own homes.
The only way to know if your home has high levels of radon is to test for it.
For more information: www.epa.gov/iaq.html
Protect your family's health. Schedule your Mold or Radon Inspection today.
For more information or to book an inspection, please contact us today!